Kent S. Fry passed away at 3:10 p.m. on Tuesday, Aug. 11, 2009, at Berthoud Living Center. He was 85. He was born on Oct. 23, 1923, in Roundhead, Ohio, to Ivan and Ruth Fry.
Kent proudly served his country in the U. S. Army, 3rd Infantry, in World War II. He was a life member of V.F.W. Post 1275 in Lima, Ohio.
Kent worked as a refrigeration technician for S&S Products and Pepsi Cola in Lima, retiring from Pepsi. He had a passion for antique flywheel engines and tractors, restoring several to pristine condition. His pride and joy was his baby blue "Dan Patch" engine that he would proudly fire up for anyone who dropped by.
Kent is survived by his loving wife of 53 years, Carol L. (Carnes) Fry; his sister, Hazel R. McGinnis; brother, Paul E. Fry; daughters Renee Peltier and husband, Kevin, of Las Vegas; and Yvonne Reichelderfer and her husband, Bob, of Loveland. Kent is also survived by seven grandchildren (Stacy, Tod, Terry, Lucas, Chad, Joe and Nicole) as well as eight great-grandchildren and numerous friends and extended family members.
Kent was preceded in death by his brother Philip and daughter Vicki.
Funeral services are Wednesday at 10 a.m. at Viegut Funeral Home. Burial at Fort Logan National Cemetery. Viewing 5 to 8 p.m. Tuesday at Viegut Funeral Home. A reception will follow the services at the Viegut  Reception Center.
Cards may be sent to his wife Carol Fry at Berthoud Living Center, 855 Franklin St., Berthoud, CO 80513. Memorial donations may be made to Forethought Hospice. Go to www.ViegutFuneralHome for condolences.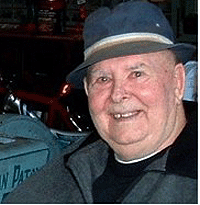 Print This Post