Mabel M. Carter   1916-2011   (94)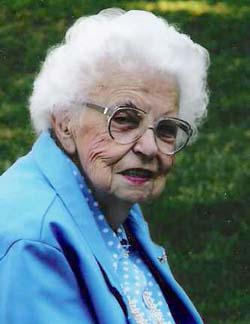 Mabel M. Carter passed away peacefully in her sleep early January 26, 2011, at Apple Leaf Assisted Living in Berthoud Colo. She was 94 years old. Mabel Marie Hansen was born on June 18, 1916, in Spencer Iowa to Peter M. and Mary Hansen. She was baptized at home beside her mother's casket three days later. Mabel's parents were immigrants to the United States: Her mother Mary from Sweden and her father Peter from Denmark. In 1917, her father married Nellie Holmberg. Nellie was the only mother that Mabel knew.
In 1934, Mabel graduated salutatorian from Lake Center High School and attended American Business College in Omaha Nebr. On Christmas Day 1937, Mabel was married to Elmer Roy Carter. They moved to a farm north of Marathon Iowa for the next 17 years. In 1942 their son James L. Carter was born. In 1954 Mabel and Elmer had a farm sale and with their son Jim moved to Berthoud Colo. where Mabel lived the rest of her life. Mabel greeted customers and served as the bookkeeper in Elmer's Shamrock and Phillips 66 stations in Berthoud and Loveland for numerous years. She also worked for Straights Hardware and in 1964 she accepted a job with the Berthoud National Bank as head bookkeeper from which she retired in 1986. She continued working as the bookkeeper for family businesses (Carter's Trucking and JLC Enterprises) until 2005.
Mabel was a member of the First Presbyterian Church in Berthoud. She served as a church trustee from 1961 to 1976 and an elder from 1967 to 1973 and 1974 to 1980. Mabel also served as church financial secretary for 21 years. Mabel was active in the Order of Eastern Star where she earned her 50 Years Membership Award while a member of Columbine Chapter No. 11 in Longmont Colo. She served as Worthy Matron in Terrill Iowa in 1950-1951 and in Berthoud Colo. for the Laurel Chapter No. 44 in 1986-1987.
Mabel loved spending time with family and friends. She took exceptional pride in her grandchildren and great grandchildren and loved telling them stories of how things "used to be." She was an avid gardener and residing at Apple Leaf Assisted Living allowed her to continue with this passion.
She is survived by her half-sister Norma (Bob) Drake of Spencer Iowa and half-brother Ernest Hansen of Dickens Iowa; sisters-in-law Jaunita Hansen of Wheelersburg Ohio and Wilma Hansen, of Sioux Rapids Iowa; daughter-in-law Ruth Fletcher-Carter of Berthoud; grandchildren Suzette Hedrick of Johnstown Colo., Gregory (Jennifer) Carter of Walden Colo. and Matthew (Tawnya) Carter of Craig, Colo.; great-grandchildren Seth Merril, Jenna Hedrick, Kaitlyn Carter and Teryn Carter; in-state nephews Dennis Drake of Ft. Collins and David Carter of Loveland; and numerous out-of-state nieces, nephews and grand-nieces and nephews.
She is preceded in death by her parents, Peter and Mary Hansen, step-mother Nellie Hansen, husband Elmer Carter, son James L. Carter, brothers Lewis and Edgar Hansen, half-brothers Henry and Charles Robert Hansen, half-sisters Elma Chase and Clara Carter, and daughter-in-law Kay Carter.
Her funeral will be held at First Presbyterian Church in Berthoud on Friday, Feb. 4, 2011, at 10:00 a.m.  A reception will follow at the church and internment will be at 2:30 p.m. at Resthaven Memorial Gardens in Ft. Collins.
In lieu of flowers, contributions may be made to the Longs Peak Council of the Boy Scouts of America or the First Presbyterian Church of Berthoud in care of Kibbey Fishburn Funeral Home.
Friends may view this obituary online and leave condolences for the family at www.kibbeyfishburn.com.

Print This Post