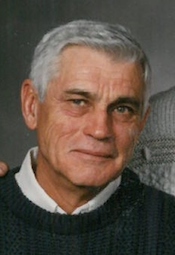 Norlen "Sandy" Sandy of Berthoud, Colorado died October 14, 2015 at Sierra Vista Healthcare Center in Loveland. He was born on September 30, 1934 in Berthoud to Ruthe (Van Glader) Fintel. Sandy spent all of his life in Berthoud, graduating from Berthoud High School in 1954. In 1971 he married Linda Cline in Loveland.
Sandy worked for phone companies for 42 years and enjoyed football, gardening, lawn work and dogs. He especially loved spending time with his grandchildren.
Sandy is survived by his wife Linda Sandy; children Michelle Sullivan (Jim) and Mitchell Sandy (Angie); and his grandchildren Grace and Eli Sullivan and Chloe, Allyson and Olivia Sandy. He was preceded in death by his mother Ruthe and step-father Eldred "Phil" Fintel.
Funeral services will be held at Viegut Funeral Home on Tuesday October 20, 2015 at 10:30 a.m., with reception following services. Interment at Greenlawn Cemetery in Berthoud following the reception. Go to www.viegutfuneralhome.com for condolences.

Print This Post