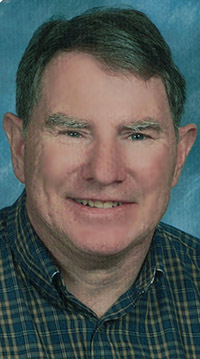 Donald Eugene Jones, 60, of Berthoud, Colorado died Wednesday, October 14, 2015 at the Berthoud Living Center after a life with Multiple Sclerosis. Donald was born on May 17, 1955 in Longmont, Colorado to Thomas and Joyce Jones. He grew up in Berthoud, Colorado, and attended local schools. Donald earned a BS in Aeronautical Engineering from Colorado State University in 1977 and MS in Astronautical Engineering from the Air Force Institute of Technology Engineering. He joined Air Force ROTC at CSU and started his career in the Air Force after graduation and served with distinction, rising to the rank of Major until retirement in 1994. He served at Wright-Patterson AFB in Ohio, Sunnyvale AFB in California, and Kirtland AFB in New Mexico.
Donald married in 1977 and raised 3 children. He will be remembered as a Tinkerer, Comedian, Scholar, Veteran, Philanthropist, Son, Brother, Father, Friend, Husband, and Multiple Sclerosis fighter.
Donald is survived by mother Joyce; siblings Thomas, Patricia, and Paul; children Christopher, Scott, and Audrey; 6 grandchildren; and former spouse Patricia.
Graveside services will be held at Greenlawn Cemetery in Berthoud, Colorado at 1  pm on October 19, 2015. Services are being arranged through Viegut Funeral Home, 970-679-4669. In lieu of flowers, the family asks that you make donations to the MS Society, nationalmssociety.org. Go to www.viegutfuneralhome.com for on-line condolences.

Print This Post