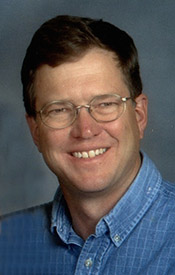 April 15, 1961 ~ October 7, 2015
Dick Essig, 54, of Berthoud, passed away October 7, 2015. Dick was born on April 15, 1961 in Denver, to Robert and Ethel (Sutherland) Essig.
Dick graduated from East High School in Denver where was a member of the Boy Scouts and the All-State Band, playing the baritone. He graduated from Colorado State University with a bachelor's degree in engineering. Dick married Susan Kintzley on March 3, 1989.
Dick was employed by Bestop, Inc. for 30 years, developing over 16 patents.
He was a member of Augustana Lutheran Church in Denver and later joined First Evangelical Lutheran Church in Longmont. He enjoyed fishing, camping, hiking, target shooting, watching NASCAR and football.
Dick was preceded in death by his father Robert.
He is survived by his wife Susan, daughters Katie and Maggie, mother Ethel and sisters Cynthia Duff-Tapp and Kathy Essig.
A memorial service will be held at 1:00 PM, Saturday, October 24, 2015 at Ryssby Church, 9000 N 63rd St, Longmont. Memorial contributions may be made to the Dick Essig Memorial Fund in c/o Ahlberg Funeral Chapel. Visit www.ahlbergfuneralchapel.com to share condolences

Print This Post