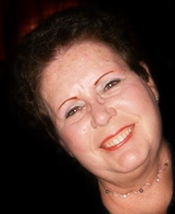 A graveside memorial service for longtime Berthoud resident, Paula Clark, will be held at 10:00 a.m., Monday, December 23, 2013 at the Greenlawn Cemetery in Berthoud, Colorado.
Paula was born on February 14, 1945 in Spirit Lake, Iowa to Forrest and Ethyl McCann.  She passed away at McKee Medical Center in Loveland, Colorado on December 17, 2013 at the age of 68.
She is preceded in death by her parents; a sister, Thelma May McCann; a brother, Stanley McCann and her husband Roger Clark.
Pauline is survived by her son, Greg (Cheryl) Sorber of Broomfield and a daughter, Geri (Jim) Casebolt of Lamar and her grandchildren, Christopher (Emily) Sorber, Sydney and Shelby Casebolt and Anthony Anema.  Also surviving are two sisters, Donna (Dave) Blom and Delores (Bob) Warren.
Family and friends may view this obituary and leave condolences to the family at www.kibbeyfishburn.com.

Print This Post