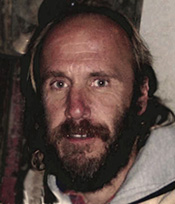 Timothy Ray Gibson, 56, of Berthoud formerly of Loveland, died suddenly of a brain aneurysm on December 11, 2013 at Medical Center of the Rockies. Tim was an organ donor, something he was very proud to be a part of.
 Tim was born March 27, 1957 in Loveland, to Robert and Wauneta (Baird) Gibson. He spent all of his life in Loveland; he was the Loveland Cupid Boy in 1961 for the Loveland Valentine Program, graduated from Loveland High School in 1975 and graduated from Iowa Western College in 1977. He owned Tim's Body Shop for many years as well as Ace Golf Carts, eventually he obtained his pilot's license and most recently had been working for D&H Airways flying a corporate jet.
Tim bought a farm in Loveland and lived there for 17 years before he moved to his ranch called TGS, in Berthoud 6 years ago. He had a love for basketball; he played during high school and college and continued to play for several years on various leagues. Tim loved the outdoors and climbed the Grand Slam of Mountain Climbing having climbed all 54 fourteeniers. He also loved animals, especially his dogs. Cirko and Reo were his last two dogs.
Tim is survived by his wife Stephanie Gibson of Berthoud who he has been with for 33 years; his mother Wauneta Gibson of Berthoud; Stephanie's son David Schultz (Erica) of Berthoud; brother Tom Gibson (Vicki) of Highlands Ranch, Colorado; sister-in-law Ellen Gibson of Brighton, Colorado; nieces/nephews Jaime Zilverberg (Brian), Will Gibson and Kati Gibson; and great niece and nephew Abby and Cooper.
He was preceded in death by his father Robert "Bob" Gibson and brother Robbie Gibson.
Memorial services will be held Wednesday, December 18, 2013, 1:00 P.M., at Viegut Funeral Home. A reception will follow services at the Viegut Reception Center. Memorials may be made to the Wild Animal Sanctuary in care of Viegut Funeral Home. Go to www.viegutfuneralhome.com for condolences.

Print This Post