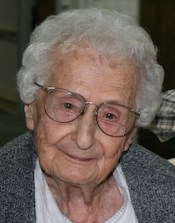 Pauline Sterkel, 102, formerly of Berthoud, died April 26 at the Wakefield Care Center in Nebraska. She was born August 29, 1911, in Norka, Russia, to John and Elizabeth Rothermel Kaiser. At the age of 2, she came to the United States with her parents. She married Henry Sterkel on November 25, 1936. He preceded her in death in 1992.
She and her husband spent most of their married life in Denver and then their retirement living in Berthoud. She is survived by her half-sister Lorene Hartung, two sons, Harvey Sterkel and wife Lilly of Denver and Marvin Sterkel of Wakefield, NE. Five grandchildren and ten great-grandchildren.
She was preceded in death by her parents, her sisters Christina Schleiger, Leona Hutton, and twin brother George Kaiser and another brother Adam.
Funeral services will be at 10:30, May 9, at the First Congregational Church, Loveland with Rev. Erin Gilmore officiating. Interment will be in Greenlawn Cemetery in Berthoud. Go to www.viegutfuneralhome.com for condolences.

Print This Post