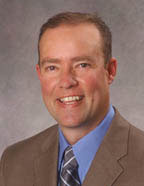 Christopher Michael Premer, age 42, passed away early Saturday morning, March 29, 2014 from complications of a short illness. Chris was a 1990 graduate of Berthoud High School and a 1997 graduate of UNC. He was a Shelter Insurance Agent in Loveland since 2008.
Chris's priority in life and best friend was his son Alexander. They did everything together, played sports, went on vacations, and loved trips to the beach. He was assistant coach for the Junior Eagles Hockey Team. He loved to fly fish with his brothers and friends. He loved spending quality time with his family and friends, especially his brother Jeff. Chris was truly the most happy, loving, caring, compassionate and forgiving person you will ever know. He will be greatly missed by all who knew him. When asked their thoughts on Chris, Alexander, his son and Sidney and Mason, his nieces, said it best – "He was wonderful, generous, caring, loving, gentle and most of all awesome!!"
Chris had the rare blessing of finding love twice in his life. Chris and Malia's time together always had a very special place in his heart. Even though it was cut way too short, it gave Chris and all of us the precious gift of Alexander. Meghan O'Brien-Marks is an important part of our family and was a very special part of Chris's life. Meghan was always there for Chris and Alexander. She, and her family, will forever be a part of our family. We are very grateful to her for sharing so much love with Chris and the support she has shown during this sad and trying time.
Chris was born November 28, 1971. He was preceded in death by his wife Malia (Johnson) Premer. He is survived by his son, Alexander, his parents Patricia and Chuck Robinett of Windsor, and Allen and Shari Premer of Atlanta, Texas, his two brothers and their families, Jeff and Stacey Premer of Loveland and Joe and Muri Premer of Lochbuie, and numerous extended family members and friends.
A Memorial Service will be held on Wednesday, April 2, 2014 at 11 a.m. at the First Christian Church, 2000 N Lincoln Avenue, Loveland. In lieu of flowers, contributions can be made to the Chris Premer Memorial Fund to benefit his son Alexander. Donations can be made through any family member or at any First National Bank location.

Print This Post