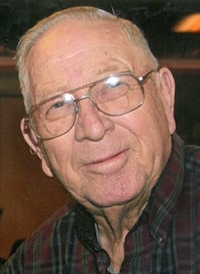 Ronald "Ron" Halverson was born in Denver, Colorado on May 5, 1927 to Ralph Halverson and Gertrude Wright Halverson. He was a graduate of Denver West High School. He joined the Marine Reserves while in high school in preparation for service in the Korean Conflict. The war concluded in Korea before he graduated so he remained in the Reserves serving in MACS-23 at Buckley Air Base for the next 9 years.
Ron was a union Sheet Metal Worker for 54 years. He served as an apprentice instructor for many years and was elected as a Business Agent and served in that capacity for 9 years.
He also farmed at the family's 60-acre farm where he grew barley, wheat and alfalfa. One of his favorite sayings was "I work sheet metal so I can afford to farm." Among his favorite activities were gardening, hunting, fishing and camping. He was a member of the Loveland Fishing Club and sang several years with the Valentine City Barbershop Chorus. When someone would ask him which part he sang, he would reply "I sing whatever the guy next to me sings!"
Ron is survived by his wife of 60 years LuAnn (Gottier) Halverson; daughter Cindy Patten (Bill) of Arvada; sons Matt Halverson of LaSalle, and Richard Halverson (Maggie) of Aurora; eight grandchildren and three great-grandchildren. He is also survived by his sister Nancy Willis of Lakewood, as well as several sisters and brothers-in-law and numerous nieces and nephews.
A memorial open house in Ron's honor will be held at the Berthoud Community Center at 248 Welch Ave in Berthoud, on Saturday, June 10, 2017 from 11:00am-4:00pm. Please go to www.viegutfuneralhome.com for on-line condolences. Memorial contributions may be made to the Colorado Sheet Metal Worker's Family Assistance Fund at P.O. Box 27910 Denver, CO 80227, Fisher House at 111 Rockville Pike #420 Rockville, MD 20850 or St. Jude's Children's Hospital at 501 St. Jude Place Memphis, TN 38105.

Print This Post