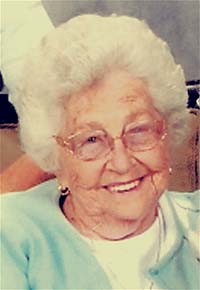 Birdie Griep, 91, of Berthoud was surrounded by family when she passed on peacefully to be with the Lord on April 29, 2017. She was born in Berthoud in 1925 on the family farm north of town, to Dan and Mollie Giebelhaus. Birdie was preceded in death by her parents, her sister Florence, brothers Roland and Reuben Gablehouse, her husband Victor Griep and great-grandson Aaron. She is survived by her three children, Carole Haverland of Berthoud, Clark R. Griep and his wife Joan of Broomfield, Colorado and Stan V. Griep and his wife Barbara of Loveland. Seven grandchildren; Jason Looney, Justin Griep, Wendy Griep, Jonathan Looney, Matthew Griep, Marcus Griep and Emily "Nikki" Griep. Eleven great-grandchildren; Jackson, Joseph, Sebastian, Katrena, Evan, Bailee, Pyper, Laura, Larissa, Drew and Austin
Birdie married Victor Raymond Griep in 1945, they were high school sweethearts. They had three children, Carole, Clark and Stan, whom were all raised on the family farm east of Berthoud. Birdie was a homemaker who loved roses, gardening, needlepointing, ceramics (owned her own ceramics shop, Birdie's Ceramics, for many years.) and dearly loved her family. She was a strong Christian woman and taught Sunday School for many years at the EUB/United Methodist Church in Berthoud.
We will remember our mother for her unyielding and loving heart and forever attitude to put others first. In her final years, she showed us what it meant to never give up.
Funeral services will be held at 10:00 a.m., Wednesday, May 3, 2017 at Kibbey-Fishburn Funeral Home. Visitation will take place prior to the service. Interment Greenlawn Cemetery in Berthoud.
Memorial contributions may be made in honor or Birdie Griep to the World Indigenous Missions or the American Rose Society in care of Kibbey-Fishburn Funeral Home.

Print This Post