By Jenny Anderson
Berthoud Recorder
The Haworth Family

The first Haworths living near Berthoud were William John and his son Franklin. William, born in England in 1817, came to America with his father in 1824, after his mother's death. They settled in western Pennsylvania, where he grew to manhood, married, and had seven children. He lived in Iowa, then Kansas, and after his wife died, came with Franklin to Berthoud in 1890, settling on a farm a mile north of Greenlawn Cemetery.
In 1902, Eli Monks Haworth, William's other son, left a hardscrabble life in Kansas, where he buried his wife and three daughters. Eli and his three adult sons — Everett, George and William Roy — followed the older William and brother Franklin to Berthoud. Eli and Everett settled on this farm west of Berthoud, while George and William Roy joined an emigrant train to Montana.
Everett Haworth married Ina Cool, a State Teachers College graduate and schoolteacher, in 1915. They had three children, including Maurice, who reminisced that the best time in his life was when he walked the mile to school, playing both ways. Unfortunately, his mom was sick, and his dad had way too much to do. From ninth grade on, he worked on the farm and was homeschooled.
Maurice married Allene Gettman in 1949. They had four children; the youngest, Stanley, continued the family tradition by farming with his father. Everett and Ina lived on the farm until 1959, when they moved to a nearby house. Maurice and his family then moved to the farm, where he still lives and farms. Allene passed away in 1987 following a long illness.
The Haworth Farm

The Haworth Barn was a hub in family economic activities. According to Red Haworth, his maternal grandfather, Willis Cool, built the barn in 1910. Willis built many barns around Berthoud after his 1903 arrival. Built on a concrete foundation, the barn is a gable-roofed structure with an attached shed. Angled braces extending from wall studs to the roof provide stability in the wind. A wide, sliding door faces west toward the chicken house and the lane to the sheep pens. Slats nailed between studs form ladders to the loft. Narrow doors exist on either end of the barn.
The main barn was used for feed storage, processing, and distribution. Loose hay and grain were stored in the loft and ground floor. The loft granary dispensed grain through a large grain chute to a large grinder, which ground equal parts hay and grain before it was hauled to the self feeders in sheep pens west of the large red brick silo. A smaller grain chute dispensed grain to a small grinder used to produce chicken feed.
Grain bucketed from the ground floor granary and hay fed the horses and milk cow housed in the barn. When sheep were fed, the barn was emptied three times a week and then refilled from field stacks. Red Haworth said he used to get hay out of the stack with a fork by hand. One day in 1950, he bought a new $500 loader. With the loader, he could move more hay in one hour than he could move in a full day by hand.
The shed half of the barn housed the farm's working livestock. Narrow doors exist on either end and a wide door led to the horse corral and loafing shed east of the barn. The horses, used to work the farm and haul the feed as late as 1950, were tied two to a stall in the four horse stalls each with a manger and grain bins, ensuring each horse received sufficient nutrition to perform its hard work. A single stanchion allowed a cow to be milked, while she ate. A six-foot-high wire runs lengthwise down the alley outside the stalls and stanchion; a lantern slid along the wire providing light.
Five winter months of the year were spent feeding 1,200 sheep and, some years, 80 steers. Pregnant ewes, purchased to be lambed out in the spring, were sold every summer. Crops raised included feed corn, barley, corn for silage, pinto beans, hay, and sugar beets. The grain was stored. Silage crops were chopped and blown into the tall red brick silo between the sheep and cattle feedlots. Loose hay was stacked. Pinto beans and beets were cash crops.
This level of activity continued until the feeder sheep market collapsed in the late 1960s. Maurice and Stan continue to raise hay and grain crops. Maurice claims "a good life," in spite of the never ending hard work.
News Image: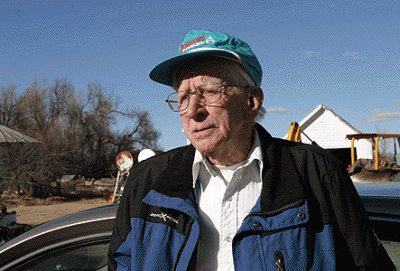 News Image: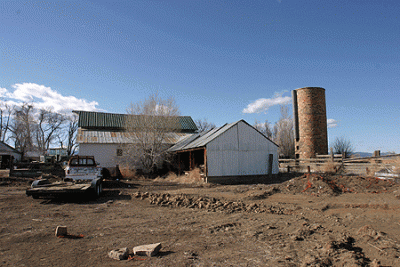 News Image: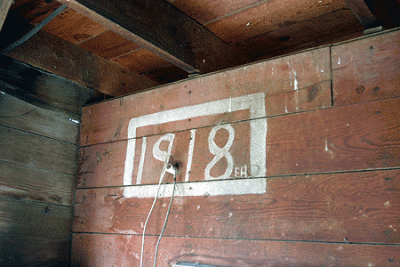 News Image: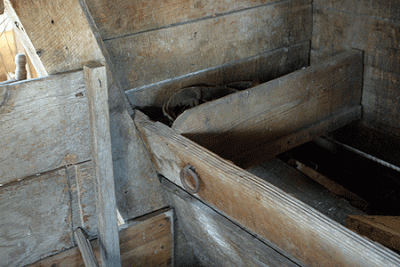 News Image: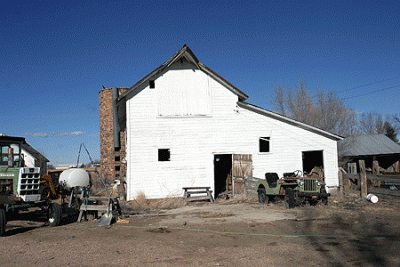 News Image: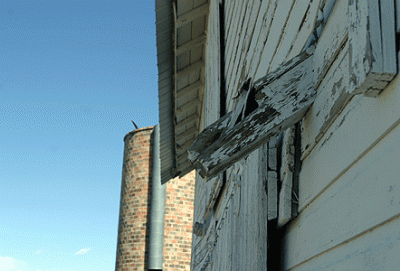 Long Description:
<p>Red Haworth continues to raise hay and grain crops.</p>
Long Description:
<p>The silo behind the loafing shed.</p>
Long Description:
<p><span style="font-size: small;"><span style="font-family: arial,helvetica,sans-serif;">Everett Haworth built this granary in 1918.</span></span></p>
Long Description:
<p><span style="font-size: small;"><span style="font-family: arial,helvetica,sans-serif;">A horse stall at the farm.</span></span></p>
Long Description:
<p><span style="font-size: small;"><span style="font-family: arial,helvetica,sans-serif;">A sheep feed grinder was on this side of the barn while hay and grain was stored beneath the gable roof.</span></span></p>
Long Description:
<p><span style="font-size: small;"><span style="font-family: arial,helvetica,sans-serif;">A small grain chute on the west side of the barn fed grain to the grinder for chicken feed.</span></span></p>
Category Lead:
Category Primary Featured Story

Print This Post