Historic Barn Series
By Jenny Anderson
Berthoud Recorder
The Little Thompson Valley Zweck-Lemmon farm has a long history of hardship and neglect, ending in a half-century of love. William K. Staggs purchased 160 acres in the Little Thompson Valley from the federal government in February 1870. This was the first of several parcels purchased by George Zweck, who farmed and raised livestock on the farm. He likely built the granary remaining on the property.
Dreams of Gold
George Zweck came with a large wagon train of potential gold miners in 1860. He patented 160 acres of land along the St. Vrain west of Longmont in 1866, where he laid out an irrigation system and hand dug the ditches. Zweck's farming success provided monies to purchase the 1870 Little Thompson farm.

Zweck became obsessed with finding gold, initially prospecting every summer when he drove his cattle to mountain pastures. In 1879, Zweck and his partners located and developed a rich mine on the Gold Hill slopes above Left Hand Creek. The Prussian produced over $400,000 in gold.
When the mine then played out, he invested his mining proceeds in cattle and land in Wyoming. He had just finished construction of a luxury hotel in Longmont when severe blizzards caused heavy losses to his Wyoming cattle herd. For the rest of his life, Zweck was haunted by creditors and an unending search for new mines in Colorado or Wyoming. He may have been prospecting just before his December 1902 death, after returning "sick from the mountains." Creditors claimed all his land, except the Longmont home place, which his wife Mary fought valiantly to save for her children. The family still farms this homestead.
The Zweck-Lemmon farm was auctioned on the courthouse steps in 1891 to the first of a series of speculators and absentee landowners. It sold eleven times between that auction and another in March 1958, when the Lemmon family bought it.
Don H. Lemmon and his wife Ruth ran a dry-land farm in Norton, Kan. until 1957, when he moved his wife and three children to Berthoud while seeking an irrigated farm. In early 1958, Don Lemmon bought the farm with its all its buildings and good water rights. The farm had not been operated by an owner since George Zweck lost the place. Consequently, it was in pretty bad shape, eroded with poor soil. Don worked hard and always had a plan, leveling land for irrigation, straightening portions of the creek in the process, and planting grass on the severely overgrazed land. He was a cattleman. He raised 50-60 Angus cows and calves and 200 feeders. He raised alfalfa hay, some grain, and corn for silage.
Artifacts Give Insight
The farm's oldest building is a gable roofed granary with walls constructed of rough-cut 2×4 boards, stacked on top of each other and nailed together with square cut nails, suggesting construction around 1880. Two plank-floored rooms exist on either side of a concrete-floored central alley. Three rooms were for grain storage. Each room has steel rods bolted through the room walls to prevent the walls from spreading when filled with grain and small grain chutes near the floor. No interior wall extends all the way to the roof, allowing for better ventilation. The fourth room was a shop. The shop door has initials and brands pecked and etched into it, "KEEP OUT" faintly painted on it, and notes concerning crops penciled on it.
The barn is a gable-roofed structure with an attached shed, likely built in the 20th century. Four rooms exist. Stanchions for milking cows and a small granary exist in the southern room, which has an easily cleaned concrete floor. Hay was lifted through a huge hay door in the north main barn wall. The crane rail extends across the barn. A loft exists over the milking parlor, but loose hay may originally also have been stored in the large, north room. A huge sliding door allows mama and baby calves to access this room. The northern portion of the shed has a small feed trough for baby calves. The southern shed room stored tack.
The corrals were organized for an efficient cattle operation. A huge feedlot with a concrete feed trough is north of the barn. Connecting pens allowed cattle to be turned into the barn, sent to the loading chute, or sent down a narrow alley to be doctored.
Other farm structures include a garage and storage shed and a chicken house, several pole sheds, and a silo. The mowed yard demonstrates the ongoing Lemmon family love of this place.
News Image: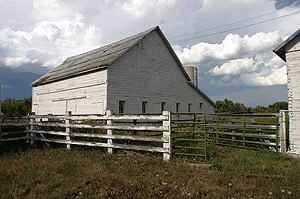 News Image: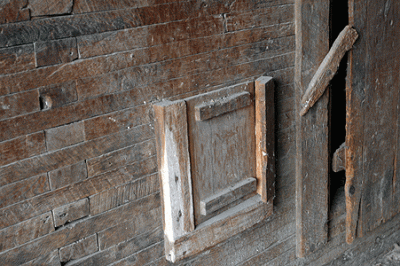 Long Description:
<p>Milk cows entered the milking parlor through the narrow door on the barn corner.</p>
Long Description:
<p>Wall construction detail, grain chute and granary room door</p>
Category Lead:
Category Primary Featured Story

Print This Post