Deputy Attacked, Former Inmate Helps Deputy
Date: 12/16/2011
Christmas spirit was put to a test last night as a Larimer County Sheriff's Office deputy was attacked after stopping to assist a motorist with a broken down vehicle.  Donovan James Boggs, DOB: 03/22/92, of Loveland was arrested for the assault.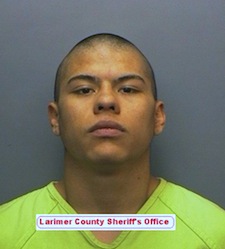 At approximately 7:00 p.m. last night (December 15, 2011) a Larimer County Sheriff's Office deputy observed a blue Chevy pickup truck parked off the side of the road at Interstate 25 and Highway 34 with its hood up with another vehicle in front of it.  After contacting two men to provide assistance, the deputy asked for identification from the men.  One of the men provided what ultimately proved to be a false name and date of birth.  Upon checking that name and date of birth it was determined there was an outstanding warrant for that individual.
When the deputy attempted to arrest the individual for the warrant, the man pulled away from the deputy and began punching him in the face.  As the struggle continued, the man continued punching the deputy as they went to the ground.  The second man who had been contacted subsequently came to the aid of the deputy and assisted him in getting control of the suspect.
The second man who stepped in to assist the deputy was a former inmate at the Larimer County Jail who the deputy had contact with while the deputy was working at the jail.  The inmate remembered the deputy and that he had always treated him fairly and with respect and later said that was why he had responded to help the deputy against the other man.
The deputy was taken to the Medical Center of the Rockies where he was treated and released with minor injuries.  The suspect did not require immediate treatment and was taken to the jail.
At the jail, the suspect was identified as Donovan James Boggs,  of Loveland.  He was charged with Criminal Impersonation (F6), 2nd Degree Assault on a Peace Officer (F3) and Driving a Motor Vehicle while License under Restraint (M0).
The charge(s) are merely an accusation and the defendant is presumed innocent until and unless proven guilty.

Print This Post