Why Does Mitt Romney Like Firing People? Because He Made $20,000 On Every Laid-Off Worker
Mitt Romney would prefer for you to recall just one number regarding his record at Bain Capital. That would be 100,000 — the number of jobs that the Republican candidate  claims he created during 15 years at the private equity firm.
But now there is a more interesting, plausible and relevant number: $20,000. That's how much money Romney is estimated to have made from each worker laid off during Bain's many corporate takeovers.
In fairness, Romney's goal at Bain was never to create jobs but to reap the biggest returns for their valued investors. Judging by that metric, he did exceedingly well, as even Bill Clinton accidentally admitted when discussing Romney's "sterling" business career. And of course, Romney's fortune, estimated somewhere between $190 million and 250 million, attests to that assessment.
But over the course of the Romney's years at Bain Capital, at least five of the companies he took over eventually went bankrupt, while still  rewarding Bain investors handsomely:
• American Pad & Paper: Bain invested $5 million in the Ohio paper company in 1992, and reportedly collected $100 million in dividends on that investment.  But AMPAD went bankrupt in 2000, resulting in 385 employees losing their jobs. … Read More

By Michael Cohen, guardian.co.uk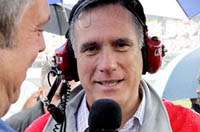 Four years ago, when I was writing about the 2008 presidential campaign, I wrote with dismay and surprise at the spate of falsehoods coming out of John McCain's campaign for president. McCain had falsely accused his opponent Barack Obama of supporting "comprehensive sex education" for children, and of wanting to raise taxes on the middle class, while his running mate, Alaska Governor Sarah Palin, took credit for opposing the so-called "Bridge to Nowhere", which she had actually supported.
At the time, such false and misleading claims from a presidential candidate seemed shocking: they crossed an unstated line in American politics – going from the usual garden-variety campaign exaggeration to wilful lying.
Ah, those were the days … after watching Mitt Romney run for president the past few months, he makes John McCain look like George Washington (of "I Can't Tell A Lie" fame).
Granted, presidential candidates are no strangers to disingenuous or overstated claims; it's pretty much endemic to the business. But Romney is doing something very different and far more pernicious. Quite simply, the United States has never been witness to a presidential candidate, in modern American history, who lies as frequently, as flagrantly and as brazenly as Mitt Romney. … Read More

Print This Post