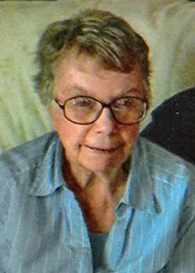 (September 30, 1936 – December 23, 2016)
Bertha "Beth" Goodner 1936 – 2016 Bertha "Beth" Goodner of Loveland, passed away on December 23, 2016. Beth was born in Fort Collins, to Oma and William Watson. Beth and her family moved to Greeley. Her mother Oma Watson passed away in 1940. Bertha almost died of pneumonia at the age of 4. In 1947, her father William Watson married Lucille.
Beth graduated from Greeley High School in 1954. In high school, she was an accomplished vocalist. Bertha married Harold "Shorty" Goodner in 1960. She and Harold moved to Berthoud, adopted and raised two sons, Jeff and Ted. Beth was a homemaker and worked as a waitress and for McKee Medical Center as a Dietary Aide.
In the early 90's, Beth and Shorty moved to Loveland where Beth could be closer to work. Shorty passed away in 1995. After Shorty's passing, Bertha remained in Loveland, accompanied by her favorite cats, Charles and Diana, and later Babe. Beth enjoyed watching baseball, crime TV, reading, music, cats, playing the piano, cooking, drinking wine and being a grandma.
She was preceded in death by her parents, husband and her brother George Watson. Beth is survived by her brother William "Bill" Watson, sons Jeff (wife Helen), Ted (wife Cindy), grandchildren Megan, Bryson and Gregor, great-grandchildren Wyatt and Matthew, and sister-in-law Mary Watson.
A memorial service will be held at First Presbyterian Church in Berthoud on Friday December 30, 2016, at 1:00 pm. In lieu of flowers, memorial contributions may be made to Larimer County Animal Shelter in care of Kibbey-Fishburn Funeral Home.

Print This Post