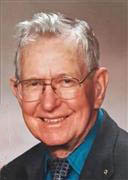 Curtis Samuel Wilson of Loveland, formally of Berthoud, passed away peacefully on April 11, 2015 in Loveland, at the age of 86.
Curtis was born on December 23, 1928 to Roy and Mabel Wilson in Stevens County, Kansas. He graduated from Elk City High School in 1947. He then moved on to Colorado to follow construction work. It was then that he met his soulmate, Joyce Kenagy, in Loveland.
He was a veteran of the Army and served in the Korean War. After his return from Korea, Curtis married Joyce Mazelle Kenagy, on January 18, 1953. They were married at the First Presbyterian Church in Berthoud. Over the following six years, Curtis and Joyce welcomed four children into their home. Curtis was a great father that set about teaching them how to work hard at whatever they set out to do, how to help their neighbors without question and how to win friends and influence people. He was an active and dedicated member of the Lions Club in Berthoud. Over the years, Curtis had been known to volunteer with the Berthoud Fire Department, Meals on Wheels, Little League Baseball coach, Boy Scout leader, and where ever there was a need.
Curtis is survived by wife Joyce. Sons Michael in Boston, Massachusetts, Dennis in Berthoud, one daughter Cleta Elder (Larry) in Rock Springs, Wyoming. Grandchildren, Carla Ceballos (Fernando), Emily Hunt (Jake), and Edison Elder, all of Rock Springs; Kristi Lynn Wilson in Boston, and one great granddaughter, Amy June Ceballos in Rock Springs. Brother James Wilson in Grand Junction, Colorado and Sister Edna Ruth Jones in Tulsa, Oklahoma, and many nieces and nephews. Curtis was preceded in death by his parents, Brothers John, Thomas, Louis, Carl and sisters Maryann and Lois, and his son, Steven Roy Wilson.
A funeral is scheduled for Wednesday April 15, 2015 at the United Methodist Church in Berthoud, Colorado at 10:00 a.m. Interment will follow at the Berthoud Greenlawn Cemetery. A reception will be directly after at the church. A viewing will be at Kibbey-Fishburn Funeral Home, 1102 Lincoln Avenue, Loveland, Tuesday April 14, 4:00 – 6:00 p.m. All are welcome to attend and celebrate Curtis's life. In lieu of flowers, please send donations in Curtis' name for the Lions Club in care of Kibbey-Fishburn Funeral Home in Loveland.

Print This Post