Elven Herbert Marshall
August 19, 1925 – April 26, 2011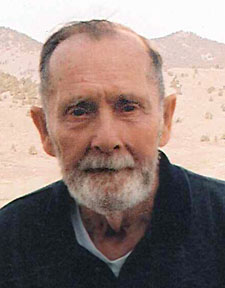 Elven Herbert Marshall, 85, of Harvey, North Dakota, formerly of Berthoud, Colorado died Tuesday, April 26, 2011 at the St. Aloisius Nursing Home in Harvey.
Elven was born on August 19, 1925 on the family homestead near Encampment, Wyoming. He was the son of Gale and Georgia (Hawkins) Marshall. In 1926 the family moved to Berthoud where his grandfather, John K. Marshall was the town marshal. The family moved around the area and Elven attended schools at Potato Hill, Bashor, Hygiene in Boulder County and Stratton Park west of Fort Collins. At age 16 he went to work for his grandfather, James Hawkins, milking cows near Lyons and Big Elk Park. In 1947 Elven and his brothers bought two livery stables in Estes Park. He also worked for Big Horn Cattle Company in Walden until he entered the U. S. Army in 1950. Elven met his wife of 55 years, JoAnn Clevenger while stationed at Fort Riley, Kansas. They were married on May 3, 1952 in Kansas City, Kansas.
He was discharged in 1952 and they moved to Longmont, Colorado, where a son, Elven Lee Marshall, was born on March 31, 1953. Elven is most remembered for working at Ideal Market on south Main Street in Longmont for 22 years. He then worked for the Longmont Parks and Recreation Department for over 17 years. Elven enjoyed the time spent with grandchildren and family. He was a member of the First Methodist Church in Berthoud. He was active in the Berthoud Senior Center where he helped serve meals and was a driver for the Berthoud Area Transportation. His hobbies were raising calves, gardening, and collecting antique barbed wire. His wife, JoAnn died on May 13, 2007. He then moved to Harvey and lived with his son and daughter-in-law. Due to failing health, Elven entered the St. Aloisius Nursing Home in Harvey in 2010.
Elven is survived by his son Elven L. and daughter-in-law, Marsha Marshall of Harvey, North Dakota; two grandchildren, Jennifer (Chris) Blackman of Harvey, Nicholas Marshall of Thornton, Colorado; great-grandchildren, Ben, Matthew, Josh, Bailey and Brayden; sisters, Oleta Reed and Opal (Thomas) Bell, all of Loveland, Colorado; brother, Harold Marshall of Brisbane, California and numerous nieces and nephews.
Elven was preceded in death by his parents; wife, JoAnn; sister, Shirley Wright and brother, Donald Marshall.
Elven will be missed by many.
Visitation will be 2-4 p.m. on Sunday, May 1, 2011 at Ahlberg Funeral Chapel, 326 Terry St., Longmont, Colorado, with family present to greet friends. Funeral service will be held at 10:30 a.m. on Monday, May 2, 2011 at First United Methodist Church in Berthoud. Burial will be in Foothills Gardens of Memory. Share condolences at www.ahlbergfuneralchapel.com .

Print This Post