Evelyn "Evee" Pfenning, 83, of Loveland, passed away early Wednesday morning, May 6, at the Medical Center of the Rockies in Loveland.
Born in rural Mead on Sept. 15, 1925, to Emanuel E. and Katherine Mary (Sterkel) Zoller, Pfenning attended the rural Red Rock School and then in 1934, the family moved east of Berthoud in Weld County, where she attended Sunny Side School through the eighth grade. She later graduated from Johnstown High School in 1943.
After marrying Clarence Pfenning in Fort Collins on Feb. 8, 1946, the couple farmed on various farms in northern Colorado. Pfenning was a homemaker who loved people and her community.
Pfenning worked in Johnstown as a checker for tax preparation for 25 years. She was an active member of the Loveland Trinity United Methodist Church having served as a bookkeeper, membership secretary, and active member in the choir and music department, various circles, and in United Methodist Women.
She was also a member of Chapter HP, P.E.O., loved eating out, dinner theaters, playing cards and attending other community functions.
Pfenning is survived by her husband Clarence Pfenning of Loveland, her sister, Darlene and husband Reinholt of Fort Collins, brother-in-law and wife, Robert and Esther Pfenning of Galeton and sister-in-law, Viola Lamar of Eaton. She is also survived by several nieces, nephews and great nieces.
Services were held at the Loveland Trinity United Methodist Church on Monday, May 11 with interment in the Berthoud Greenlawn Cemetery. Memorial contributions may be made to Trinity United Methodist Church, 801 N. Cleveland, Loveland, 80537 or to the charity of donor's choice.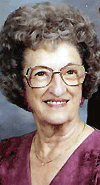 <p><span style="font-size: small;"><span style="font-family: arial,helvetica,sans-serif;">Evelyn &ldquo;Evee&rdquo; Pfenning</span></span></p>

Print This Post