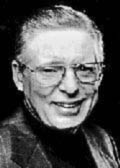 Gene Ellis went to the arms of his Lord August 4, 2011.
He was born in Smith Center, Kan. to Lawrence E. and Thelma Pauline (Rupert) Ellis on September 18, 1938.
He enlisted in the Air Force in 1955 and served for 8 years as a sentry dog handler in the air police earning the rank of Airman First Class before he was honorably discharged in 1963. In 1972 he became involved with the Larimer County Search and Rescue.
He was married to Jeannie Carr from 1958 to 1979.
He married Carol Webster in 1983 and they were devoted to each other until his untimely death.
Gene worked for his family business, Ellis Western Wear, until 1985. In 1986 he established the Lazy Heart E Tack Shop at the training facility he and Carol own east of Berthoud. He specialized in barrel racing equipment and later built a mobile unit that he took to barrel races in Colorado and Wyoming to provide tack and equipment for the barrel racers.
Gene will be dearly missed by his family and friends.
Gene is preceded in death by his father, mother and one sister.
He is survived by his loving wife, Carol; daughters, Shirley Archuletta and husband Steve of Peyton, Colo., Darci Strang of Empire, Colo., son, Toby Ellis and wife Leigh Ann of Loveland Colo.; seven grandchildren, Kristina, Amanda, Carly, Kelsey, Madison, Nathan and wife Viviane, and William; and two great grandchildren, Jadon and Anthony. Gene is also survived by one brother, Terry Ellis and wife Roxie of Loveland, Colo, as well as many loving nieces and nephews.
Gene will be forever missed by his wife, family and friends.
Funeral services will take place at 11:00 a.m., Tuesday, August 9, 2011 at Crossroads Church in Loveland. Visitation will be held from 5:00 to 7:00 p.m., Monday at Kibbey Fishburn Funeral Home. Interment will take place in Greenlawn Cemetery in Berthoud.
To read the complete obituary and express condolences to the family please visit www.kibbeyfishburn.com and www.lazyhearte.com.
In lieu of flowers the family has requested donations be made to the Mile Hi Barrel Horse Assn in care of Kibbey Fishburn Funeral Home.

Print This Post