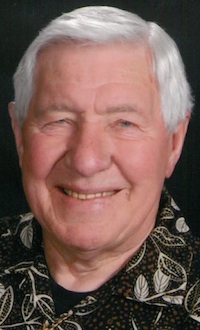 Henry "Pat" DeGooyer, 82, of Berthoud, Colorado died October 3, 2016 at Medical Center of the Rockies in Loveland. He was born July 29, 1934 in Hyde County, South Dakota to Anton and Grace (Karns) DeGooyer. Pat was a graduate of Highmore High School in South Dakota and served in the U.S. Army at the end of the Korean War. On April 6, 1954 he married Vivian Rohm in Custer, South Dakota.
Before moving to Berthoud, in 2002, Pat lived in Wyoming for eight years and Rapid City, South Dakota prior to that. During his time in South Dakota he worked for Black Hills Power & Light as a Line Superintendent.
Pat was a member of Mt. Olive Lutheran Church in Loveland and enjoyed fishing, rock hunting and star gazing with his son-in-law. He was also a "Jack of All Trades."
Pat is survived by his wife Vivian DeGooyer of Berthoud; son David DeGooyer of Greeley; daughter Julie Huxford (Richard) of Aurora; brothers Donald Degooyer and Karl DeGooyer both of Pierre, South Dakota; grandchildren  Brian (Megan) and Thomas Huxford; and great-grandchild Claire Huxford. He is preceded in death by his parents, one brother and four sisters.
Pat was a beloved husband, father and grandfather who will be greatly missed. Memorial services will be held at Mt. Olive Lutheran Church on Saturday, October 8, 2016 at 10:00 am. Private inurnment will be held at Fort Logan National Cemetery in Denver at a later date. Go to www.viegutfuneralhome.com for on-line condolences.

Print This Post