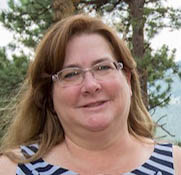 Jennifer "Jenny" Lynn Macy, of Berthoud, Colorado, passed away on August 5, 2016, at the age of 48.
Jennifer was born in Annapolis, Maryland on June 4, 1968 to Stephen Tucker and Jessica Carlton. She graduated from Arvada West High School in 1986, and spent her early adulthood as the military wife of Jerry Manley, with whom she had her first two children. She had a successful career at Concepts Direct, during which she enjoyed playing on recreational softball teams and made lifelong friends. She married Shannon Macy in 2003, and became a homemaker.
Jennifer loved her children more than anything, and would often be found cheering them on at various academic and sporting events. She was a lifelong Denver Broncos fan, never without her lucky jersey and jewelry on game day. She loved to garden and watch her flowers bloom, and enjoyed game nights with her family, sitting around a full table singing and dancing along to whatever music was nearby.
Jennifer is survived by her husband, Shannon; children, Brittany Logue and husband Daniel, Christopher Manley, Shelby Macy, Breanna Macy, Tanner Macy, and Amber Macy; parents, Stephen Tucker, Jessica and Robert Carlton; sisters; Erica Carichner and Casey Boswell; brothers; Stephen Tucker Jr. and Robert Carlton ; and countless loving family members and friends.
A celebration of life will be held Tuesday, August 9, 2016 at 3 o'clock, at Grace Place Church in Berthoud.
Contributions to benefit the family may be made at https://www.youcaring.com/jennifer-macy-s-family-615278.  Arrangements were placed under the care of Kibbey-Fishburn Funeral Home, Loveland, Colorado.

Print This Post