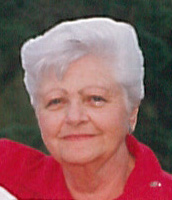 Mary Ann Pence Pond, 83, passed away on May 17, 2016 at Aspen House in Loveland, Colorado. Mary was born in Cheyenne, Wyoming on April 16, 1933, the daughter of Oscar and Nellie Pence. She spent the first 13 years of her life on her father's homesteaded ranch northeast of Cheyenne, attending a country school in Chugwater, Wyoming, 22 miles from the ranch and boarded and roomed with an older couple there for grade 6, returning usually to the ranch only on weekends. At the beginning of 7 grade, she and her sisters shared an apartment in Cheyenne and attended school there.
In May 1946 her father passed away and in May 1947 her mother and the girls moved into Cheyenne. Mary graduated from Cheyenne High School in 1951 and has worked at various times throughout her life for personal lines insurance agents and insurance claims offices. The most recent employment was with Dave Wallace, Farmers Insurance Agent in Longmont, Colorado.
She married Duane E. Pond in 1958 in Cheyenne, Wyoming. They have lived in Cheyenne, Wyoming; Moab, Utah; Seward and Blair, Nebraska; Las Vegas, Nevada; Colorado Springs, Colorado; Shawnee Mission, Kansas; Hooper, Utah; Washington, DC area; and Berthoud, Colorado. They moved to Berthoud in 1985. Mary did volunteer work in the schools her children attended, and in a nursing home in Roy, Utah for several years. Since 1994 she has been a volunteer at the Berthoud Public Library. In the past she has been a member of the Presbyterian Church and maintains a strong Christian faith although not currently a member of a local church. Her children and grandchildren were always a very important part of her life. Mary enjoyed flower gardening, hand work, volunteering, and reading.
Mary is survived by her husband Duane; sons Vernon of Johnstown, Colorado and Martin and wife Susan of Loveland, Colorado; daughters Karen Jones of Johnstown, and Duana McCallum of Redmond, Washington; grandchildren Melissa Bee Pond and Hunter Marie Pond of Colorado and Aspen Marie McCallum of Washington; step-grandson Trevor Beeler of California; sister Glenis Child and husband Wayne of Cheyenne; and many, loved nieces and nephews. She is preceded in death by her parents and sister Lois Stone.
A private memorial service will be held at a later date. In lieu of flowers, memorial contributions may be made to the Berthoud Public Library in care of Allnutt Funeral Service. Please view the online obituary, send condolences and sign the family guest book at www.allnutt.com.

Print This Post