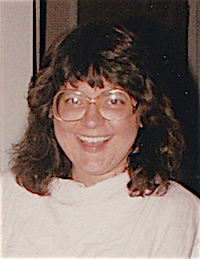 April 25, 1958 – January 30, 2017
Mary Jo Eason, 58, of Berthoud passed away January 30, 2017 at her home following a courageous battle with breast cancer.
She was born April 25, 1958 in Portland, Oregon to William and Josephine Barnes. She spent most of her early life in Portland and Cheyenne, Wyoming. She graduated from East High School in Cheyenne. Mary moved to Colorado in 1983.
Mary meet Russell Jay Eason in 1987 and they began dating. They were married on February 19, 1993. They have made their home in Berthoud near Carter Lake for over 20 years.
Mary was a seamstress in Broomfield in the 1980s and was then employed at the Rocky Flats Nuclear plant as a productions control scheduler and document control expert.
She is a member of Saint John the Evangelist Catholic Church in Loveland. Mary was active in the Skyline Brittany Club, the Northern Colorado Brittany Club and in Girl Scouts with her daughter in Berthoud.
Mary enjoyed scrap booking, card making, dog shows, photography and most importantly raising her family. She is remembered as a loving wife, mother, daughter and sister.
She was preceded in death by her father.
Mary is survived by husband Russ, son Wyatt Nathaniel, daughter Shelby Marie, mother Josephine Marie Barnes, brothers William Barnes and Michael Barnes, sister Lisa Marie Barnes and nephew Jason Allan Chipman.
Mass of the Resurrection will be held 10:30am Saturday, February 4, 2017 at Saint John the Evangelist Catholic Church in Loveland. Cremation entrusted to Ahlberg Funeral Chapel and Crematory. In lieu of flowers memorial contributions can be made to Saint Jude Children's Hospital and sent in care of Ahlberg Funeral Chapel. Visit www.ahlbergfuneralchapel.com to share condolences.

Print This Post