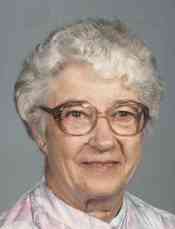 Ruby V. Wykoff (96) died September 6, 2014 at Loveland Good Samaritan Village. Ruby was born March 16, 1918 in Ness City, Kansas to Rudolph and Ellen E. (Kinsinger) Kopper. She married Charley T. Wykoff on March 20, 1938 in Ness City. They were married 70 years.
On the day they were married, they moved to rural Berthoud. They often said that, since they never went back, they were still on their honeymoon. They operated their own dairy farm in until their retirement. They moved into Berthoud in 1992 then moved to Loveland Good Samaritan Village in 2005. Ruby enjoyed sewing, crafting, and cross-stitch. She loved her church activities, and Whipple Club and was a avid scrabble player. She was a member of The First United Methodist Church of Berthoud for over 50years.
She is survived by two son's, Russell and wife Susan, Gary and wife Paula, grandchildren, David, Belinda, Julie, Steven, and Stacy. Six great grandchildren, and two Great-great grandchildren and numerous nieces and nephews. She is preceded in death by her husband Charley, and her parents.
A memorial service will be held at the Spiritual Life Center at the Loveland Good Samaritan Village 1:30 PM Friday, Sept. 12, 2014. In lieu of flowers contributions may be made to The First United Methodist Church of Berthoud or Loveland Good Samaritan Village in care of Viegut Funeral Home.

Print This Post