Carolyn Jean Shufelt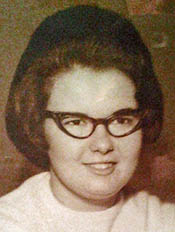 Carolyn Jean Shufelt went home to be with her Lord and Savior, Jesus Christ, on Tuesday, June 26, 2018, following a courageous battle with lymphoma. Carolyn was born September 19, 1948 in Oconto, Wisconsin to Marion (Belongia) and Harold Shufelt. She grew up in Abrams, Wisconsin and graduated from Oconto Falls High School in 1966. She met her good friend, Bette VanPay Copley, who was her 4-H leader there, and who became her very good mentor and friend for the remainder of her life. She enjoyed helping out with chores on their farm, as well as helping her parents with many household chores. She loved to visit all of her relatives and spend time with her cousins growing up in Abrams and the Green Bay area.
Following high school, Carolyn attended Southwestern Bible College, now Southwestern University, in Waxahachie, Texas. After one year, she decided Texas was too hot, so returned to Wisconsin where she was employed by Ronar Company in Oconto for 7 years, then for Swiss Colony Cheese in Monroe, Wisconsin. She met her special, lifelong friend Sharon Bergevain at Ronar, and they corresponded for many years. Carolyn moved to Colorado in 1971, with friends whom she had met in Monroe, and began working as a nanny for several families in Colorado. She was employed by the Jarret Family from 1985-1997, helping raise their two boys, Scott and Greg, and by the Abromski family from 1997-2006, helping raise their two girls, Lauren and Morgan. Carolyn loved children and was truly "Nanny Extraordinaire" to all of the children she cared about and for over the years. This was her true calling in life. She also enjoyed Bible Study, attending her small church, and praying for others and witnessing to others about the Lord Jesus Christ.
Carolyn moved to Berthoud after retiring and enjoyed her friends and watching her beloved baseball (Rockies/Cubs), and football (Packers/Broncos) teams while knitting, crocheting, and making many gifts and goodies for her friends and family members. Her favorite pastime was Power Shopping on QVC, and HSN. Carolyn loved to give to others in whatever way she could, to bring happiness to them.
Carolyn is survived by her brother, Gary Shufelt, of Abrams, Wisconsin several aunts and uncles, and many cousins.
An open house Celebration of Life will be held in Loveland, at Viegut Funeral Home, 1616 N Lincoln, Loveland, on July 5, 2018 from 12:00 p.m. to 3:00 p.m. Cremation was handled by Viegut Funeral Home. Inurnment to follow in Oconto, Wisconsin, arrangements pending.

Print This Post