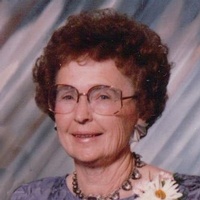 Anneliese (Lisa) Zimmerman, 88, of Berthoud, passed away peacefully on August 24, 2018 at Good Samaritan Society – Loveland Village. She was born on April 22, 1930 in Gevelsberg, Germany to Louis and Anna (Jeglinski) Dohle.
Anneliese, while working as a secretary for the US Army Engineers in Germany, wrote a letter to Rocky Mountain News Columnist Molly Mayfield wanting to find an American pen-pal (and ultimately hoped to find a sponsor to help her immigrate to America). Walter Zimmerman was one of several responses to her request. They corresponded for a year and Walter agreed to be her sponsor to come to the United States. She stayed in New York for a month and then came to Colorado meeting Walter in person for the first time. After a few months, Anneliese and Walter became engaged. They were married on November 30, 1958 at the Zion Lutheran Church in Loveland, where they are still members.
Along with being a farmer's wife, Anneliese also worked at Scientific and then accepted a job at Hewlett-Packard in 1963, where she worked for 21 years before retiring in 1984 as a production specialist.
Anneliese and Walter enjoyed visiting family in Germany and Argentina and traveling in their motorhome. Anneliese volunteered for Habitat for Humanity, loved 'antiquing' (going to auctions, garage sales, estate sales, etc.), gardening and watching the Denver Nuggets.
Anneliese is survived by sisters-in-law, Virginia Horst of Loveland and Trudy Dohle of Buenos Aires, Argentina, her godchildren, Ingrid Dohle of Buenos Aires, Krystal Reese and husband Scott of Loveland, and Kevin Horst and wife Wendy of Loveland, as well as numerous nieces, nephews, great nieces and nephews and great-great nieces and nephews.
She is preceded in death by her husband Walter, her parents and three brothers, Karl, Louis, and Fritz.
Funeral services will be Tuesday, September 4, 2018 at Zion Lutheran Church, 815 E. 16th Street Loveland. Viewing at 9:30 AM followed by the funeral service at 10:30 AM. Interment at Loveland Burial Park at 1:45 PM.
Memorial contributions may be made to Weld County Humane Society, Larimer County Humane Society and/or Pathways Hospice in care of Kibbey Fishburn Funeral Home.

Print This Post