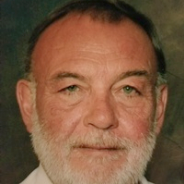 Harlin Dale Trupp, 69, of Berthoud passed away December 27, 2017, surrounded by his loving family. He was born July 9, 1948 to Vernon L and Rachel (Kuxhaus) Trupp at the Larimer County Hospital in Fort Collins, Colorado. He was raised on a farm in the Masonville area and graduated from Loveland High School in 1966.
Harlin attended the University of Colorado before enlisting in the Marine Corps in January of 1968. He served as a machine gunner and squad leader with the 3rd Marines, 3rd Battalion in Vietnam from July 1968 to July 1969. Upon his discharge, he returned to the Loveland area and went to work for Mountain Bell in 1970, and retired from U.S. West Communications in 1999.
Harlin married Rebecca Anne Barney on November 21, 1970. They had 2 children while residing in Loveland. In 1978, the family moved west of Berthoud to a home that brought Harlin much happiness and peacefulness throughout the following years.
After retiring, Harlin enjoyed travel within the United States and abroad. He enjoyed other cultures, and the people he met everywhere. He also enjoyed sporting events, especially football as well as golf, pool, playing cards, gambling, and attending Marine Corps reunions and socializing with his "Brothers". His wife, children and grandchildren were his greatest love, and spending time with all of them brought smiles, laughter and many happy memories.
Harlin was a life member of the Veterans of Foreign Wars Post 41, the American Legion Post 15, Loveland Elks Post 1051, DAV, 3rd Bat. 3rd Mar. RVN, Marine Corps Heritage Foundation Semper Fidelis Society, Telecom Pioneers of America, and the First Congregational Church.
He is survived by his wife Rebecca, daughter Jennifer Richardson and husband Scott and their children Taylor, Liam, and Eli; son Daniel and wife Nicole and their children Rachel, Clara, and Madden; brother Fred and wife Karen; two sisters-in-law Susan Anderson and Nancy Carlson (Jeff); as well as numerous aunts and cousins.
Services will be held Friday, January 5th, 2018 at 11AM at The First Congregational Church with inurnment following at Loveland Burial Park. In lieu of flowers, memorial contributions may be made to the Marine Corps Heritage Foundation, or the Wounded Warrior Project.

Print This Post