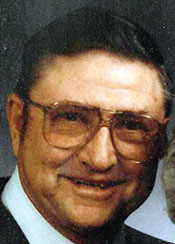 Martin F. Spiess of Berthoud, 89, formerly of Loveland, passed away on March 23, 2009. He was born Oct. 15, 1919, in Pleasant Valley, Kan. to Charles G. and Agnes (Miller) Spiess.
He worked at Woodward Governor in Fort Collins, where he met Fern Agnes Fangmeier. They were married Feb. 1, 1964 in Fort Collins. He owned and operated Fawn Hallow General Store in the Big Thompson Canyon. Then they moved to Campion and he worked at the Sugar Beet factory in Loveland. In 1974, they moved to Berthoud and he was the head custodian at Ivy Stockwell Elementary in Berthoud. Martin and Fern were very instrumental in helping to form Mt. Olive Lutheran Church, where they were members. They were both active in the Berthoud Senior Center, which they also worked very hard to get organized.
Martin loved to write poetry. He would get some basic information from people and write poems for them.  He enjoyed gold panning and gardening.
He is survived by step-sons Lyle Fangmeier (Sherry) of Commerce City, Colo., Fred Fangmeier (Linda) of Pine Bluffs, Wyo.; daughter-in-law Sara Fangmeier of Longmont, Colo.; 12 grandchildren, 19 great-grandchildren and two great-great-grandchildren.
He was preceded in death by his parents; wife, Fern A. Spiess (July 29, 2001); a step-son, Frank Fangmeier; a great-granddaughter, Lisa Marie, and seven siblings.
Memorial services will be held at 2 p.m. on Saturday, April 4 at Mt. Olive Lutheran Church.  Contributions may be made to Mt. Olive Lutheran Church in care of Viegut Funeral Home, 1616 N. Lincoln Ave., Loveland, CO 80538.

Print This Post