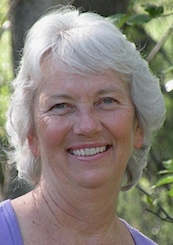 Mary Ann Parrish Alverson, 72, of Loveland, passed away February 28, 2015 at Columbine Centre Avenue Health in Fort Collins. She was born August 29, 1942 in Carey, Texas to Arthur Leo Parrish and Tressie Lavena (Williams) Parrish.
She married the love of her life Ronald Lee Alverson on April 15, 1961 in Boulder, Colorado and they enjoyed 48 years together.
She was very dedicated to her family and enjoyed spending time with them. She worked in the family businesses, the Boulder Color Center in Boulder and Mountain View Welding in Longmont. She joined husband Ron on the road when he worked for Longmont Foods. She also cleaned houses for several years and made many friends along the way.
Mary Ann also loved the outdoors where she spent a good deal of time gardening and enjoying animals. She truly enjoyed studying God's word with her church Shepherd's Chapel and loved sharing her faith and understanding with family and friends.
She is survived by brothers Clarence Parrish of Texas, Lonnie Parrish of Alaska, 3 children, Chris Alverson and wife Julie of Loveland; Kevin Alverson of Gravette, Arkansas; and Julie Schmidt and husband Jason of Gravette, Arkansas, 9 grandchildren, 5 great grandchildren and several nieces and nephews.
She is preceded in death by her husband Ronald, parents Leo and Tressie and brothers Vaughn and Jesse.
A memorial service will be held at Viegut Funeral Home in Loveland, on Saturday, March 14, 2015 at 10 a.m. There will be a reception in her honor following the service. Donations may be made to the ALS Association Rocky Mountain Chapter c/o Viegut Funeral Home. Go to www.viegutfuneralhome.com for condolences.

Print This Post