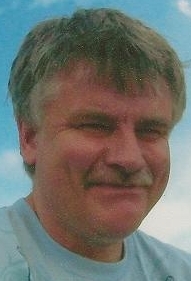 Timothy Allan Eisenbraun, 48, passed away Oct 26 at his home in Berthoud. He was born Sept 9, 1963 in Hot Springs, South Dakota to Allan and Nancy Eisenbraun, welcomed home by a sister Annette.
Tim grew up in Custer, South Dakota and Loveland, Colorado. He graduated from High School in Loveland. Tim worked various jobs for years before becoming disabled from heart disease. Tim loved the outdoors, cars, dogs, and his greatest love, fishing.
Tim was preceded in death by both his parents. Left to cherish his memory is his sister Annette and her family, Tom and Amanda.
An open house Memorial time will be held Monday, Oct 31 at the home of Clint and Sherri Hogue, 600 E 50th St, Loveland, beginning at 6:00 p. m. Memorial contributions may be sent to Annette Elgersma, PO Box 405, Sanborn IA 51248. The fund will be used towards an education fund for his only niece Amanda. Go to www.viegutfuneralhome.com for condolences.

Print This Post