Tony Rodriguez, 51, of Berthoud passed away at McKee Medical Center on May 17.  He was born Jan. 22, 1958, in San Barbara, Mexico to Roman and Micaela (Castro) Rodriguez.
He moved to Berthoud from Mexico 40 years ago and worked in general construction in the area for many years. Rodriguez liked hiking and walking his dogs.
He is survived by his father Roman Rodriguez of Berthoud; brother Hector Rodriguez of Loveland; sisters Martha Rodriguez and Elvia Quezada, both of Berthoud, Bertha Mendez of Mexico; and nieces and nephews Lorine, Ashley and Orlando.
He was preceded in death by his mother.
Cremation to take place. No services are scheduled. Viegut Funeral Home will be in charge of arrangements.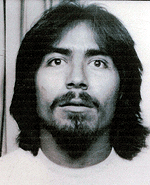 <p><span style="font-size: small;"><span style="font-family: arial,helvetica,sans-serif;">Tony Rodriguez</span></span></p>

Print This Post