Hanawa Returning To Pikes Peak International Hill Climb In Search of Crown With New Yokohama Electric Vehicle
By Mike Moran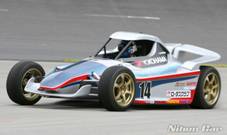 Colorado Springs, June 3—–Japanese driver Ikuo Hanawa is coming back to the Pikes Peak International Hill Climb on June 27 to chase the Exhibition Division championship in a new Yokohama Electric EV Sports Concept HER-02 auto with Sanyo batteries.
Hanawa finished behind winner Randy Schranz in the Exhibition Division last summer, but Schranz is moving over to the Pikes Peak Open field this year. So this time, using the same technology that is used with Computer batteries, Yokohama and Sanyo's goal is to get to climb to the top and win the crown this time.
Hanawa, like four-time Unlimited champion Nobuhiro Tajima, is a storied Japanese driver with scores of titles during his career in motor sports.
Last year, running in the Exhibition Division in his Racing Buggy, Hanawa chalked up a clocking of 14:50.754 as the runnerup to Schranz. The time smashed the previous Pikes Peak Electric Vehicle record of 15:18.64 seconds set in 2002 by Compact Power, a subsidiary of LG, the same company contracted to supply batteries to General Motors for the Chevy Volt.
The 2010 event should continue the excitement and heated competition that marked last summer's chase that attracted 163 racers in 17 classes who attacked the 12.42 mile course with 156 turns to the 14,110-foot summit.
To date, more than 160 racers and drivers have registered for the 2010 event, including 16 returning champions from last summer's showdowns in all classes.
The popular Fan Fest, presented by Budweiser, which attracted almost 35,000 fans to downtown Colorado Springs to meet the drivers and racers, see their cars, trucks and motorcycles, and enjoy music, food and special events, is set for Friday, June 25, from 5:00-10:00.
Fans wanting to be on the Hill on June 27 to see the 2010 Pikes Peak International Hill Climb can purchase tickets now with several attractive options.
A Family 4-Pack is available for four at a price of $125.00 and advance General Admission tickets are priced at $40.00. Camping permits are also available for the only day of the year when camping is allowed on the mountain.
Last summer, more than 4,000 fans made their way to spots along the course to see the nation's second-oldest motor sports event that made its debut in 1916.
Race tickets & camping permits are now available for purchase through the PPIHC web site as well as by telephone.

Print This Post