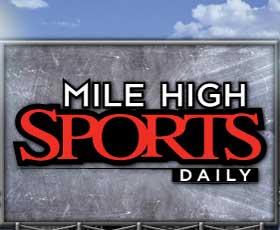 The Silver Standard
A national writer once again trashes a local athlete
By D-Mac
Well, my good friend, Michael "The Machete" Silver, is at it again. For the third time this year, the highly esteemed national NFL writer from Yahoo! Sports has eviscerated Tim Tebow. 
This time, Silver set out to destroy Tebow in the pages of 
GQ
. Somewhere between cologne and tight fitting pants, America needed a year in review about Tebow
Now remember, this is the same national writer who brought you such classics as "Tebow is the fourth-string QB" and "the Lions defense thinks Tebow is a joke." Now, Silver wraps up his Tebow bashing trilogy with a 
GQ
 article titled "The Year of Magical Stinking: An Oral History of Tebow Time." (Yes, that 
is
 the actual title.)
There is quite a difference, though, in this piece from his other mudslinging works. In this one, he is actually brave enough to use real quotes. This is a serious deviation from his typical "well-placed sources." However, there is a problem. Shocker! 
The one person that actually made this boring, uninteresting regurgitation of non-news compelling stated that his comments were taken out of context. Brady Quinn was made to look like a petty, jealous fool when in reality he is a hard-working, humble teammate who understandably wants his fair shot. 
Quinn did do something foolish. He trusted Silver. 
Let's review the reality. Adam Weber is a nice enough kid, but if he was really ahead of Tebow at any point, don't you think he would've been activated at some point this season? That's right, even 
after
 Kyle Orton was traded, Weber still couldn't get off the practice squad. Ever!  
In case you forgot, after week 11, the Broncos went with two QBs. How does that happen if Tebow is fourth string? It doesn't, because it was never reality. Of course, the facts didn't stop Silver from flying into Denver for one whole day and write a damning, untrue story based on unnamed sources – a story that still follows Tebow today.
You see, the rest of the media can frankly be incredibly lazy. Instead of going to the real reporters like Jeff Legwold, Mike Klis or Lindsay Jones of the 
Post
, instead of asking hard-working TV guys like Vic Lombardi or Gary Miller, instead of questioning long-time radio reporters like Andy Lindahl or Brandon Krisztal, lazy media dogs just fish for the most insulting comment they can find from a national guy because of course he knows better than people who are actually there every day, right?!?!?
In terms of the Lions calling Tebow a joke. Well, I have my own unnamed sources that told me the way the conversation went with Silver in the Detroit locker room was that Silver was talking in a relaxed way to some players and it was 
Silver
 who suggested Tebow was a joke as a QB, to which some of the guys nodded their heads in an agreeing sort of way. Bam! There you go. Unnamed Lions consider Tebow a joke!  
You see how that works? Of course, when I talked to Detroit linebacker Cliff Avril on during Super Bowl week, he denied that he thought that Tebow was a joke. But, hey, who is Avril except for one of their best pass rushers and a significant player during that game? Oh, and we were talking to him on the record. But never mind all that, because Silver is a national guy.
Now, we turn our eyes to Quinn, who apparently in a 50-minute interview trashed the Broncos season as luck, has a problem with how Tebow displays his faith, and claims that he was actually the No. 2 QB and only the organizations capitulation to the fans landed him on the bench. 
This may be the most ridiculous thing I have ever heard. I've been around Brady for two years and not once have I ever found him to be anything other than an exceptional teammate and person. To think that he would actually trash a guy I really do believe he is friends with is, well, it's unbelievable. Until you realize who wrote the article.
Quinn was scheduled to be on my radio show, but backed out just a couple of hours before the interview. I really wish he hadn't. He does need to clear the air publicly so you can hear his tone and his words.
Silver got so defensive when people questioned his quotes that he said he had tapes. Okay, Mike, then put them out there. Don't just say it, do seething unique – prove it! Hey, guess what I have? Yeah, I got video of the Easter Bunny and Santa Claus doing shots of Jäger at the Stampede last Wednesday night. Am I going to show you? Of course not. Just trust me!
As Silver was doing his round of promotion on a variety of national shows, he was rightfully questioned about the veracity of his quotes. This is largely based on the fact that Quinn himself denies the context of the conversation. Silver tried to backtrack and claim that Quinn wasn't really bitter. Too late, Mike, you already splattered that perception like a can of paint falling off a roof. Nice try. 
Deadspin correctly pointed out that if the only thing Silver took from a 50-minute interview were three statements that made Tebow look like crap, then it's obvious he was willing to burn a bridge for his own sake. True. Good job, Deadspin.
Then, of all people, Silver started slamming me. On Twitter, he bravely said nobody gives a (bleep) about me nationally. Wow, what a statement, tough guy! So am I to understand that somebody who covers a team each and every day for years has no value because nobody knows me in Bristol? What an arrogant statement! Of course, what he is really saying is that because he has written for 
Sports Illustrated
 and now Yahoo!, he is beyond reproach. How dare somebody question or criticize a man who is obviously in such high standing amongst his national peers. How dare such a low life like me or, God forbid, you simpleton Broncos fans question his almightiness. 
Meanwhile, there are amazing national reporters that come to town and do fantastic work. They include Alex Marvez, Jeff Darlington, Ed Werder and our once-local-now-national-star Josina Anderson.
I don't know if it's desperation or an amazing lack of self-esteem that makes Silver the way he is, but he is hyper-sensitive and I think a bit delusional in his own self-importance. His ability to take a strain of truth and create a mountain of mayhem is unparalleled.
Did Brady Quinn really complain about not having a billboard or did Silver say it to him jokingly and then Quinn laughed along? Well, don't worry about it because Silver has the tape, which of course we'll never hear. 
I thought this was a perspective you should have as Silver, who remarkably in his Twitter avatar is pictured next to Tebow (journalistic integrity). I am told this by my unnamed sources, as I have been blocked by his majesty.
But hey, who am I, just a local Denver guy who nobody gives a (bleep) about nationally. 
Want more Mile High Sports? Check out 
Marcello Romano's blog
 at milehighsports.com. Today, our Nuggets blogger takes a look 
why Denver is so maddening.

Print This Post