Berthoud Falls 11-4 to Loveland
By Dan Karpiel
Sports Writer
Entering a season with sky-high expectations can be difficult for any team. That is precisely the situation the Berthoud High softball team finds themselves at the opening of the 2011 season. The 2011 team will attempt to replicate the success they enjoyed with a state runner-up finish in 2010.
The Spartans dropped their season-opener by an 11-4 score to the Loveland High Indians on Wednesday afternoon in the sweltering 95-degree heat at Bein Park in Berthoud. The Spartans came into opening day missing a pair of key players, 2010 All-Conference pitcher Victoria Puchino and catcher Shelby Miller.
Six fielding errors did not help the Spartans as they allowed Loveland to bat 15 for 36 (.417) as a team. Three Indians – Anna Gerhard, Bradey King and Addie Coldiron – each notched a trio hits off of Berthoud pitcher Morgan Thonhoff. Loveland's offensive explosion came early in the game as they tallied eight runs in the first three innings.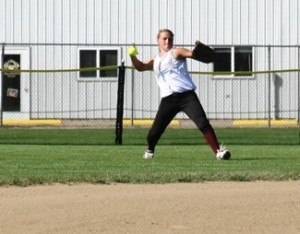 The Spartans, down 9-0 entering the bottom of the fourth inning, did not allow the early deficit to get them down. Berthoud tallied a pair of runs in both the fourth and sixth innings and held the Indians to only a pair of runs in the final three innings.
All four RBIs came off the bat of sophomore third baseman Kenzie Keller. Keller, along teammates Kendall Baker and Sami Kouns, each had two hits for Berthoud and Kouns crossed home plate twice to score half of the Spartans' runs.
Thonhoff pitched all seven innings for Berthoud, surrendering 14 hits and allowing seven earned runs. As mentioned, Thonhoff was aided by her defense as Berthoud committed six costly errors on the afternoon. Despite the errors, the Spartans' fielding was not all bad on the afternoon as Kouns tallied five assists from shortstop and Berthoud turned three double-plays.
The Spartans will travel to Erie and Johnstown for their next two games before returning home to face Skyline on September 1.

Print This Post