Fern C. Patton of Berthoud, formerly of Elliott, Iowa, died Aug. 22 at the age of 92 at Berthoud Living Center. She will be greatly missed.
Patton was born Nov. 1, 1916 at home in Braddyville, Iowa to Ed and Blanche Eberly. She was married to Ed Patton on Feb. 20, 1935; he preceded her in death in September 1966.
She was a lifetime member of the Elliott United Methodist Church and was very active in all areas of the church, a lifetime member of Elliott UMW Ladies Society, past president of Senior Tops, member of Elliott Senior Center where she was actively involved. She was a member of a neighborhood club for many years.
Patton was employed as a housecleaner, wallpaper hanger, caregiver in people's homes, and farming with her husband. She was also employed by the Hansen Egg Company in Griswold, Iowa, Schantz Food Market in Elliott and her last place of employment was with the U.S. Postal Service in Elliott. She retired to Berthoud in 1996.
Patton is survived by her daughter Ella Ratashak of Berthoud, her son Bill (Lylene) Patton of Mount Pleasant, Iowa, six grandchildren, nine great-grandchildren, a brother; a sister and several nieces and nephews.
She was preceded in death by her parents; her husband of 31 years; her brother Everett Eberly; her sister Roseine Barnes, great-grandson, Dylan Ratashak and many other family members.
Per Patton's request, cremation has taken place. A private family service is being planned for a later date in Elliott.
In lieu of flowers, memorial contributions may be made to Elliot United Methodist Church, 201 Linden St., Elliott, IA 51532.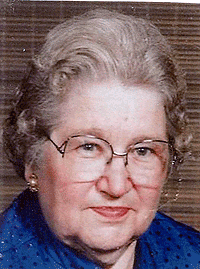 Print This Post