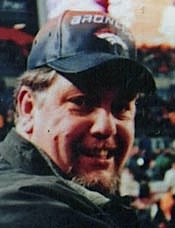 John E. Kokes, 55, of Berthoud passed away on March 5, 2012 from a long battle with cancer. He was born on December 25, 1956 in Sidney, Nebraska to Glenn and Vivian Kokes. John attended Caliche High School and graduated in 1975. On February 8, 1997 he married Jeri O'Bryan and together they made Berthoud, Colorado their home for the last 18 years. John worked heavy equipment construction throughout Colorado in various locations. John's enjoyments in life were golfing, 4-wheeling in the mountains, and going up the hill gambling. He loved having family gatherings and mingling with friends. His greatest joy was spending time with his grandchildren and going to support them in their events.
John is survived by his wife Jeri Kokes; daughter Jena Kokes; step-daughter Brandy Stanford and husband Jeremey; parents Bob and Vivian Buttle; brothers Paul Kokes and wife Rita and Mike Kokes; half-brother Alvin Burkhart and wife Carol; sisters Carol Babcock and husband Larry and Kelley Rothleutner; half-sister Tina Ring and husband Ron; three grandchildren Nevaeh, Derek, and Carson; and many nieces and nephews.
He was preceded in death by his father Glenn Kokes.
A memorial services will be held at 12:00 p.m., Saturday, March 17, 2012 the Berthoud Community Center located at 248 Welch Avenue in Berthoud. A luncheon will follow the services. In lieu of flowers, memorial contributions can be sent to Hospice Care of Boulder and Broomfield Counties at 2594 Trailridge Dr. East, Lafayette, CO 80026.
Go to www.viegutfuneralhome.com for condolences.

Print This Post