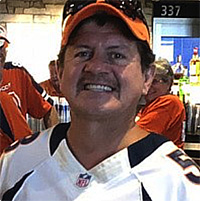 Obituary published on Legacy.com by Kibbey-Fishburn Funeral Home & Crematory on Nov. 14, 2023.
It is with heavy heart that we announce the passing of Rodney J. Salazar of Loveland, Colorado on Saturday November 11, 2023.
Rodney entered the world on February 23, 1964, to LeRoy and Margaret Salazar of Berthoud, Colorado. When the doctor handed them their newborn son, he said "Here is your little Beatle" as the Beatles debuted in America on the Ed Sullivan Show earlier that same month. Rodney was affectionately given the nickname of "Nuch", which remained with him all of his life.
Rodney was raised in Berthoud Colorado where he attended Berthoud Elementary School and Berthoud Junior-Senior High School. While attending high school, Rodney excelled in wrestling with the guidance of his coach and mentor Mr. Frank Locker. He also formed brotherly friendships with Allen Alvarado, Mitchell Fry and Darryl Olson all who preceded him in death.
As a young man of 14 years old, Rodney held his first job at NAPA in Berthoud. After high school, Rodney worked in many different trades starting with construction with his dad, to working with his mom at Storage Tech. Rodney finished his working career as a skilled electrician.
Rodney had an eclectic collection of music. He was also an avid fan of the Denver Broncos, Denver Nuggets and Colorado Rockies. There wasn't a concert or professional sports game that he didn't attend with his brothers and sisters.
In 1992, Rodney met the love of his life Isabel Pacheco. Being empty nesters, they took a chance and joined the carnival which allowed them to travel to many different places throughout the United States. Once they left the carnival they settled down in Loveland and raised their fur baby Brownie.
Rodney was a simple man with a tremendously big heart. His family meant the world to him, there was nothing he wouldn't do for anyone, even a stranger on the street. He along with his brother Bobby formed a lifelong friendship with a childhood neighbor Darryl Hooley. Rodney left a loving impact on everyone he met and will be missed dearly.
Rodney is survived by his son Ted Pacheco, of Idaho, daughters Leandra (Marvin) Heil of Evans, and Irene Mendoza of Grand Junction, his father LeRoy Salazar of Berthoud, siblings Geri (Abe) Rivas, Greeley, Oretta Salazar, Berthoud, Georgia (Ernie) Rivas, Fort Collins, Cathy (Alfred) Gonzales, Longmont, Mike Naranjo, Longmont, Sister-In-Law Cherry (Bobby) Salazar, Loveland, Brother-In-Law Nash (Carmen) Martinez, Firestone, 6 Granddaughters, 2 Grandsons, 3 Great Grandsons, numerous Nieces, Nephews, Uncles, Aunts, Cousins and Friends
In Eternal Rest Rodney joins his love Isabel Pacheco, Mother Margaret Salazar, Sisters Mary Naranjo, Carmen Martinez, Liza Salazar, Brother Bobby Salazar, Nephew Brian Naranjo, Great Niece Hope Rivas, Grandparents Eligio & Rosenda Salazar, Jose & Josephine Naranjo, Ed & Cleo Ward, his fur baby Brownie as well as numerous Aunts, Uncles and Cousins.
A Recitation of the Rosary will be held at 10:00 a.m., Tuesday, November 21, 2023 at St. John the Evangelist Catholic Church, with a Memorial Mass at 11:00 a.m. Inurnment will take place at Foothills Garden of Memory in Longmont.
In lieu of flowers, memorial contributions may be made to the Rodney Salazar Memorial Fund in care of Kibbey-Fishburn Funeral Home.
To send a flower arrangement or to plant trees in memory of Rodney J. Salazar, please click here to visit our Sympathy Store.
To plant trees in memory, please visit the Sympathy Store.

Print This Post