At first light this morning, (June 10, 2016) members of Larimer County Sheriff's Office Emergency Services and Larimer County Search and Rescue responded to Lon Hagler Reservoir to conduct a land search of the area where Ashley Doolittle's vehicle was found on June 9, 2016. Deputies and investigators continued to conduct interviews and gather leads in efforts to locate Ashley, Tanner Flores, and Tanner's vehicle.
At approximately 8:00 am, investigators received information regarding a possible sighting of Tanner's pickup truck in unincorporated Mesa County, Colorado near the community of Collbran. LCSO contacted the Mesa County Sheriff's Office and requested they respond to verify the report. The Mesa County Sheriff's Office and other local authorities responded and located Tanner's pickup. They also recovered the deceased body of a young adult female and took Tanner into custody.
The Mesa County Coroner's Office will release the identity, cause, and manner of death at a later time.
Tanner George Flores (10/31/1997) of Berthoud, Colorado is being held in the Mesa County Jail – charges pending.
LCSO has dispatched investigators to Mesa County. LCSO will continue the investigation with assistance from the Mesa County Sheriff's Office. All public information regarding this investigation will be coordinated by LCSO.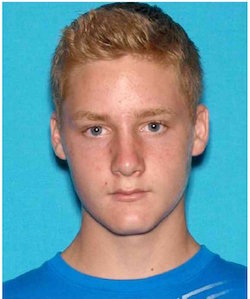 Tanner Flores

Print This Post